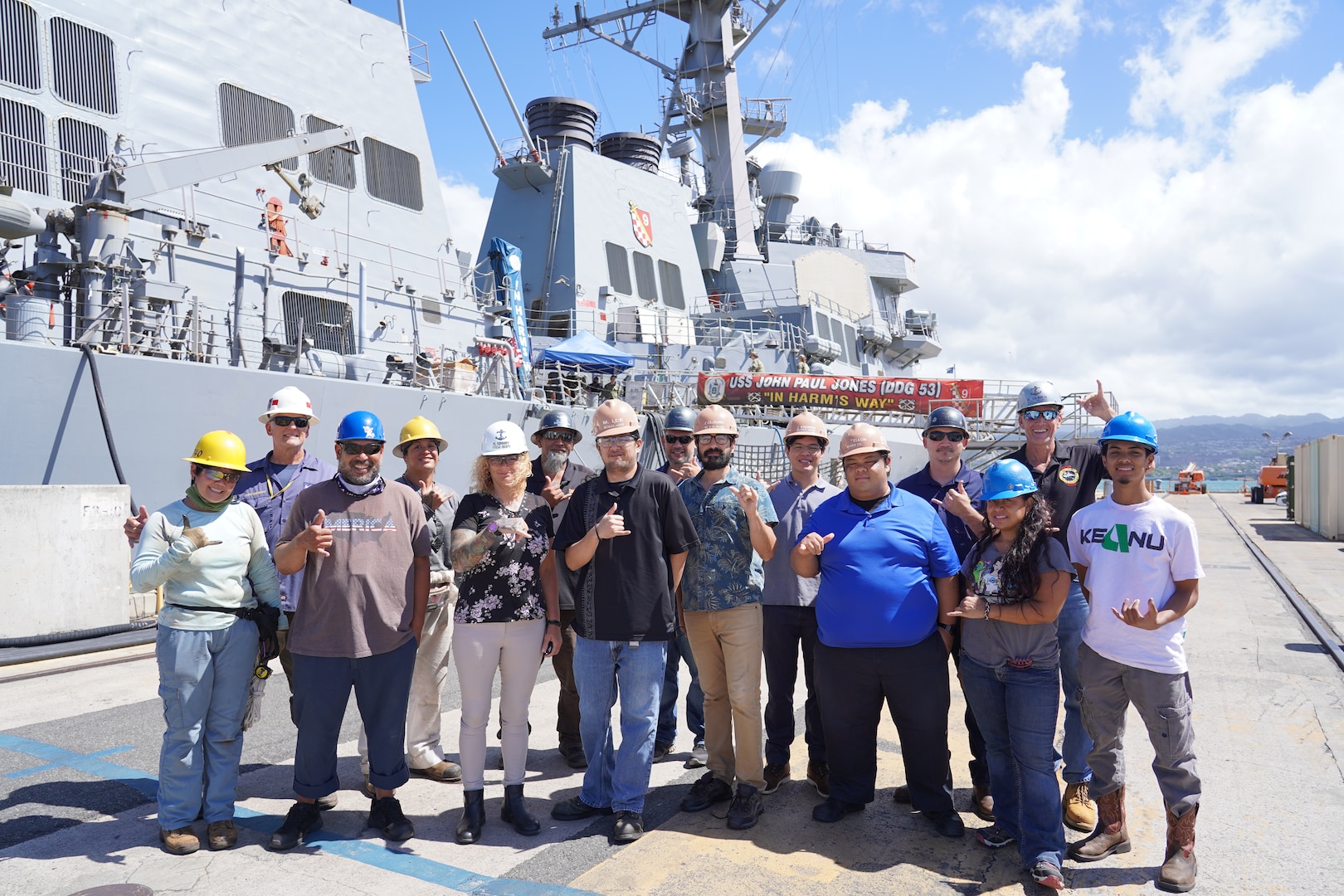 PEARL HARBOR, Hawaii – Fleet Maintenance Repair (FMR) and dive and crane and rig crews completed a submarine hub replacement on the USS John Paul Jones (DDG 53) at Pearl Harbor Shipyard and at the intermediate maintenance facility (PHNSY & IMF) bravo jetties. The crane and rigging teams removed the five propeller blades, then installed a cofferdam, which allowed them to work underwater in a dry environment to remove the old hub and install the new one. .
Hub replacements are depot-level repairs typically performed in a dry dock. However, Naval Sea Systems Command (NAVSEA), with the help of Rolls Royce, completed the work in the water in just 18 days, 12 days ahead of the 30-day schedule. This was based on the last time the Navy performed a water-based hub replacement in 2020. The PHNSY & IMF team also completed the work 19 days faster since the first time the work was completed in 2014.
Waterway hub replacements are very complex operations and are not done often. This is the third time in naval history, and only the second time on an Arleigh Burke-class guided missile destroyer, that a water hub replacement has been performed. The combined PHNSY & IMF team have worked tirelessly for weeks to develop a plan to run the job with safety and efficiency as their biggest concerns. The repair plan required the crew to work around the clock to quickly get the ship back on track and get her ready for battle.
"Confidence and a dedicated crane and rigging team have been key contributors to the team's success," said Scott Heineman, NAVSEA 00C5. "Teams that demonstrate a high level of trust are more likely to use each other's skills and strengths, to admit mistakes and limitations as opportunities for growth, and to generally produce meaningful work. better quality towards the common goal. "
Over the past 20 years, NAVSEA 00C5 has proven that underwater farming saves money. It often eliminates the need for dry dock repairs, extends the interval between dry docking and minimizes the time the vessel spends in dry dock. The replacement of the water hub of the USS John Paul Jones was no exception. The resource budget allocated to this work was $ 677,000 while the team spent only $ 445,000 saving $ 231,825 while getting the ship back on mission in record time.
"It's exciting for the entire maintenance community to do this type of high level first job here at Pearl Harbor because we are developing a skill set that we didn't have in the past," said Rich Ulmer. , Deputy Project Superintendent of FMR. "It's amazing what the team has accomplished
For more information on Pearl Harbor Naval Shipyard & IMF, visit navsea.navy.mil/Home/Shipyards/PHNS-IMF or facebook.com/PearlHarborNavalShipyard.